Inservice Video Instructions
The Videos can be found by going to the main website (http://www.lgbtqtherapists.com/) and clicking the "read more" button under the "News and Calendar" section at the bottom.
Log in using your member login ID and Password after clicking on the Log In link on the right side of the page. If you do not know your login information please contact the administrator Shar Wood at shar164@comcast.net.
This will bring you to your profile page where you can edit settings such as your password to your personal liking. When you are ready to continue on, click on the LGBTQ Guild News link in the top left corner and from the drop down click on Visit Site.
And then click on the "CEU's for Members" tab in the black bar.
Which should bring you to this page. Clicking on the title links will bring you to the specific video viewing and quiz page.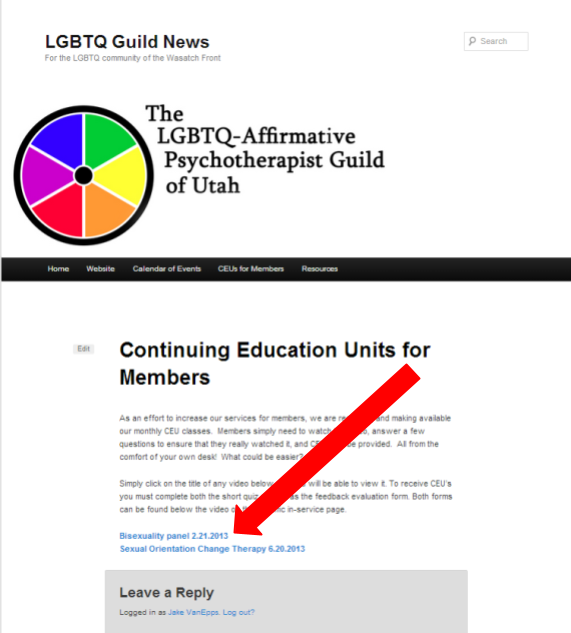 Which brings you to this page:
Press the play button on the video to watch from any device (PC, phone or tablet). Click on the four outward facing arrows for full screen, or click on HD for better quality if your internet speeds allow for it.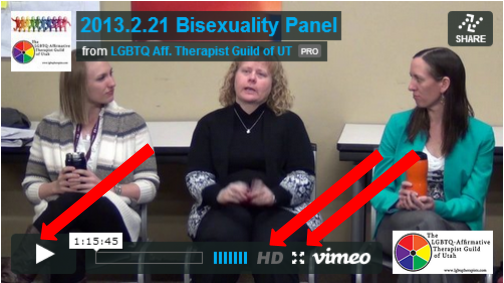 Below the video is the quiz that you complete right on the same page to ensure you watched the complete video.
Then complete the program evaluation:
The guild will automatically collect response and when all the forms are completed, CEU's will be credited to you.
If you have any questions, feel free to contact me (jake.vanepps@gmail.com) and I will be happy to help you.